Your health insurance plan tells you preventive care is free.* You read and hear about the importance of preventive care. But what does that mean? What is preventive care exactly?
Preventive care (it's also sometimes called preventative care) includes screenings or tests that are designed to help you avoid disease or illness.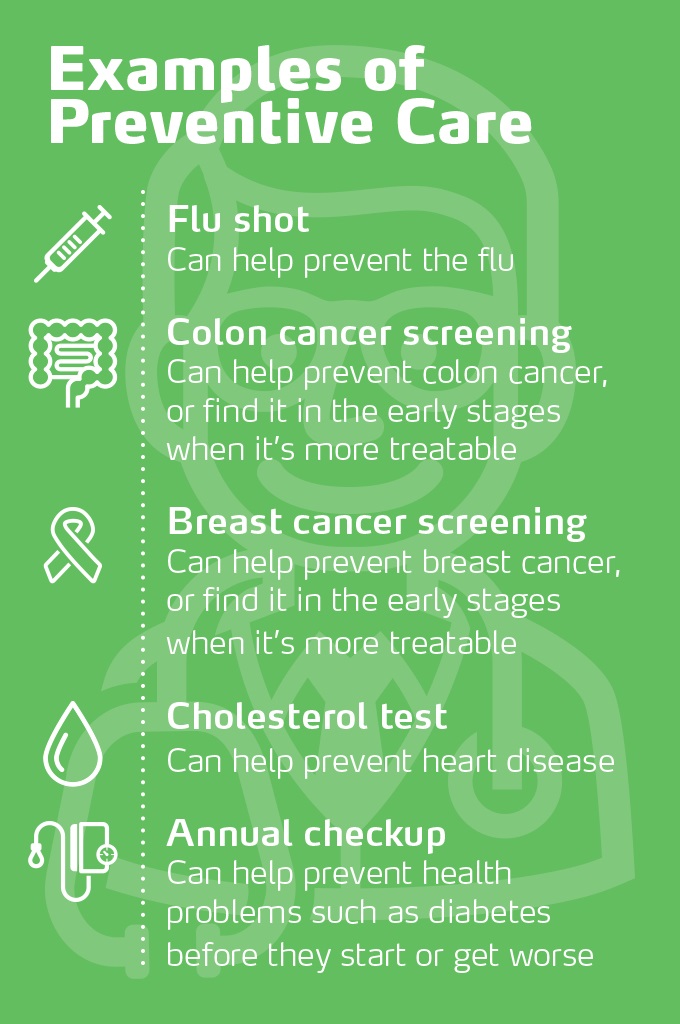 What care is considered preventive care?
How can you tell if a test, shot, medicine or screening is considered preventive? The preventive care portion of the Affordable Care Act says your health insurance carrier must completely cover the costs of preventive services that the U.S. Preventive Services Task Force (USPSTF) grades with an 'A' or 'B.' The USPSTF develops its grades recommendations based on a review of high-quality scientific evidence. In some cases your health insurance carrier may cover additional services as preventive, even if the USPSTF doesn't list them.
Find the care that's recommended for you
Your age and gender have a lot to do with what care you should get and when. Enter those into the health finder tool for a list of the preventive care recommended for you.
Are you up-to-date? If not, give your doctor's office a call. Talk over the care you may be missing. Your doctor can direct you to the best place to get these services.
Don't have a doctor or a health professional you see regularly (also known as a primary care provider, or PCP)? Use our Find a Doctor tool to help you find one who's in the network for your ConnectiCare plan. Then call to make your first appointment, often a checkup.
It's important to know…
Sometimes preventive visits, tests or screenings can lead to other tests or procedures that aren't considered preventive. In that case, you may pay some or all of the cost for the service. Using in-network doctors and facilities can help lower your costs, because ConnectiCare has negotiated rates for our members.
Your benefit summary explains how much you'll pay for different services and prescriptions. For more on that, check out our post, Is it free for me?

1 U.S. Centers for Disease Control and Prevention website, https://www.cdc.gov/prevention/index.html  updated Dec. 23, 2015, accessed January 26, 2018
*"Free" preventive care means that you will not have a copay or have to pay money toward your deductible or coinsurance for the services. Sometimes a preventive care visit leads to other medical care or tests, even at the same appointment. You should check with your doctor or doctor's staff during your visit to see if there are services you may be billed for. Your membership agreement has a list of covered preventive services, including age and gender requirements and frequency limitation rules. To see your membership agreement, log into connecticare.com.