Hurricanes can bring severe weather, with the potential for dangerous winds and flash floods. The American Red Cross recommends you take precautions to keep your family and home safe during extreme weather. There are things you can do right now to get ready for the next big storm.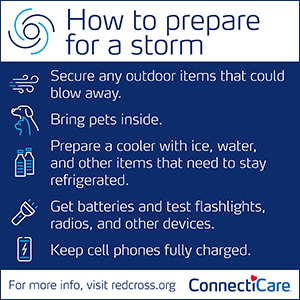 Before the storm:
Trim any trees or bushes and remove damaged branches to make them more wind resistant.
Secure any outdoor items that could blow away in severe winds. Bring in what you can't secure.
Bring pets inside or make sure their structures are protected.
Prepare a cooler with ice, water, and other items that need to stay refrigerated (including certain medicines) in case of power outages.
Get batteries and test flashlights, radios, and other devices in case of power outages. Try not to use candles to avoid a fire hazard.
Keep cell phones fully charged in case the power goes out.
During the storm:
If you lose power, unplug small appliances or sensitive electronics to prevent damage from power surges.
Stay inside, away from windows.
Don't try to drive in flooded areas. Turn around and go another way.
If you're stuck in a car with water rising around you, get out and find higher ground.
For more information, please visit the following pages from the American Red Cross: