This year will be a little different
Many flu and cold symptoms are similar to symptoms of COVID-19. The flu, a cold, and COVID-19 may all present with a fever, body aches, and a cough, among other symptoms.

There are, however, a few key differences. For example, COVID-19 may cause a loss of taste or smell and shortness of breath. These are not typically signs of the flu or a cold.
The flu typically comes on quickly and suddenly. With a cold, you usually experience symptoms more gradually. With COVID-19, symptoms may develop between two (2) and 14 days of exposure. But you can be infected and contagious without even showing signs of being sick.
Below are the symptoms that someone with the flu or COVID-19 may have in some combination.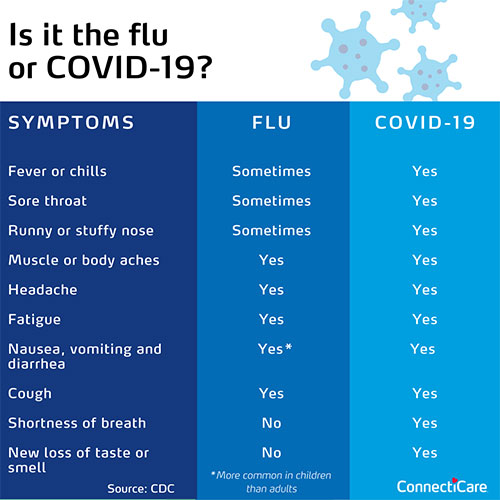 To protect against COVID-19, it's important to get vaccinated. Connecticut has expanded eligibility to all residents 12 and older. For the most up to date information, visit your city or state's COVID-19 vaccine sites: Connecticut,  Massachusetts, New York City, and New York state. You can also find trusted information on vaccine safety, doses, and more on the CDC's webpage.
Where to turn if you're sick
Any time you're ill, you want to catch it early, both to start treatment and prevent yourself from exposing others.
Contact your primary care provider (PCP) right away if you develop symptoms that could indicate flu or COVID-19. Your PCP will help you find the best testing and treatment options. Urgent care centers are another option if you think you have the flu.
Many ConnectiCare plans also include telemedicine through Teladoc®. Telemedicine doesn't replace a PCP, but it's a quick way to get advice without leaving home, 24 hours a day, seven days a week. 
Please note that telemedicine doctors cannot order lab tests —  diagnostic or antibody tests — for COVID-19.

Get help immediately if you experience emergency warning signs, such as shortness of breath or difficulty breathing, pain or pressure in your chest or abdomen, dizziness or confusion, seizures, severe muscle pain or weakness, or a worsening of chronic conditions.

Have you had your flu shot?
It's the best way to protect yourself from the flu. And, it's free with your ConnectiCare plan.** Talk to your doctor if you have any concerns about the shot. It's recommended for most people over the age of 6 months.

Stop the spread with these prevention tips
There are things you can do to help prevent catching or spreading the flu, the common cold, COVID-19, or other contagious illnesses:
Wear masks covering your mouth and nose whenever you're in public.
Wash your hands often.
Limit contact with sick people. Stay home if you are sick.
Try not to touch your eyes, nose, or mouth.
Cover your nose and mouth when coughing or sneezing.
Disinfect common surfaces at home and at work.
Take care of yourself! Get enough sleep, drink plenty of fluids, and eat healthy foods.
Once more: Get a flu shot! The best time to get one is by the end of October, but you can still get one later during flu season. 
* Most – but not all – plans cover telemedicine. Sign in to the member website to find out if yours does and what telemedicine provider you should contact. Telemedicine does not replace the primary care physician, is not an insurance product, and may not be able to substitute for traditional in person care in every case or for every condition. See your plan documents for more information.


** If you get a flu shot while visiting your doctor for another reason, your plan's copayment, deductible, and coinsurance will apply to the visit. Also, if you get it at an out-of-network doctor, you will have to submit an out-of-plan reimbursement form.
© 2021 Teladoc Health, Inc. All rights reserved. Teladoc and the Teladoc logo are registered trademarks of Teladoc Health, Inc. and may not be used without written permission. Teladoc does not replace the primary care physician. Teladoc does not guarantee that a prescription will be written. Teladoc operates subject to state regulation and may not be available in certain states. Teladoc does not prescribe DEA controlled substances, non-therapeutic drugs and certain other drugs which may be harmful because of their potential for abuse. Teladoc physicians reserve the right to deny care for potential misuse of services. Teladoc medical visits cost $45 or less depending on your plan benefits. Please check your benefit summary, available when you sign in to connecticare.com. Telemedicine is not appropriate for all covered services, and restrictions may apply.
About Wayne Rawlins, MD, MBA
Dr. Wayne Rawlins, vice president and chief medical officer at WellSpark Health, is a former member of the National Vaccine Advisory Committee, where he worked with the U.S. Department of Health and Human Services to advise and make recommendations on national vaccine policy. WellSpark Health and ConnectiCare are part of the EmblemHealth family of companies.