First, go over your symptoms
The flu and a cold have some different symptoms.1 And, the flu typically comes on quickly and suddenly. With a cold, you usually experience symptoms more gradually.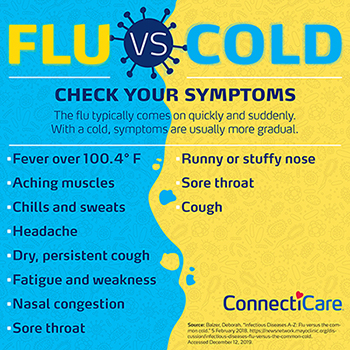 Adults with the flu may also experience stomach issues like nausea, vomiting, and diarrhea (although those symptoms are more common in children).2 And people 65 and older have a greater risk of flu-related complications, such as pneumonia, dehydration, and worsening chronic conditions like asthma, emphysema, and heart disease. 2, 3   
Where to turn if you suspect the flu
Many ConnectiCare plans* include telemedicine. Telemedicine lets you contact board-certified doctors 24 hours a day, seven days a week, by phone or video chat on your computer or mobile device. Doctors review your symptoms and can prescribe medicine, if needed.

Telemedicine doesn't replace your primary care provider (PCP), but it's a quick way to get advice without leaving your home. Check your plan benefits for more information.

Of course, you can call your primary care provider (PCP) or visit a nearby urgent care center if you think you have the flu.
Get help immediately if you have shortness of breath or difficulty breathing, pain or pressure in your chest or abdomen, dizziness or confusion, seizures, severe muscle pain or weakness, or a worsening of chronic conditions.3
Have you had your flu shot?
It's the best way to protect yourself from the flu. And, it's not too late to get the shot! Ask your doctor if the flu shot is right for you.
Flu prevention tips [Set apart in different color box.]
There are things you can do to help prevent catching or spreading the flu:4, 5
-          Get a flu shot – there's still time! (Ask your doctor if the flu shot is right for you.)
-          Wash your hands often.
-          Limit contact with sick people. Stay home if you are sick.
-          Try not to touch your eyes, nose, or mouth.
-          Cover your nose and mouth when coughing or sneezing.
-          Disinfect common surfaces at home and at work.
-          Take care of yourself! Get enough sleep, drink plenty of fluids, and eat healthy foods.
 
*Telemedicine benefits are provided by MDLIVE® or Teladoc®, depending on your plan. Most - but not all plans cover telemedicine. Sign in to the member website to find out if yours does and what telemedicine provider you should contact. Telemedicine does not replace the primary care physician, is not an insurance product, and may not be able to substitute for traditional in person care in every case or for every condition.
Sources:
 1Balzer, Deborah. "Infectious Diseases A-Z: Flu versus the common cold." 5 February 2018. https://newsnetwork.mayoclinic.org/discussion/infectious-diseases-flu-versus-the-common-cold. Accessed December 12, 2019.
2WebMD. "How Does the Flu Affect Older Adults?" https://www.webmd.com/cold-and-flu/fact-sheet-elderly-people#1. Accessed December 12, 2019.
3Centers for Disease Control and Prevention. "People 65 Years and Older & Influenza." https://www.cdc.gov/flu/highrisk/65over.htm. Accessed December 12, 2019.
4Johns Hopkins Medicine. "Influenza." https://www.hopkinsmedicine.org/health/conditions-and-diseases/influenza. Accessed December 12, 2019.
5Centers for Disease Control and Prevention. "Healthy Habits to Help Prevent Flu." https://www.cdc.gov/flu/prevent/actions-prevent-flu.htm. Accessed December 12, 2019.
About Wayne Rawlins, MD, MBA
Dr. Wayne Rawlins, vice president and chief medical officer at WellSpark Health, is a former member of the National Vaccine Advisory Committee, where he worked with the U.S. Department of Health and Human Services to advise and make recommendations on national vaccine policy. WellSpark Health and ConnectiCare are part of the EmblemHealth family of companies.