Farmington, CT (April 24, 2020) -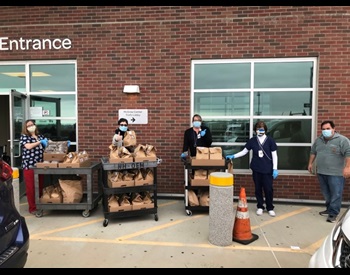 On April 21, ConnectiCare, in collaboration with Norwalk Pizza & Pasta and the Greater Norwalk Chamber of Commerce, provided lunches for 40 healthcare workers at Norwalk Hospital. The donation was made by ConnectiCare as a thank you to healthcare workers serving the Greater Norwalk community during the COVID-19 outbreak. 
"We recognize and appreciate the long hours, risky circumstances, and daily struggles that nurses, doctors, and other healthcare workers are enduring to protect the health of Connecticut's residents," said Eric Galvin, President of ConnectiCare. "ConnectiCare has a long history of giving back to the communities where we live and work. Bringing in lunch was a for us to say thank you to those on the front lines at Norwalk Hospital."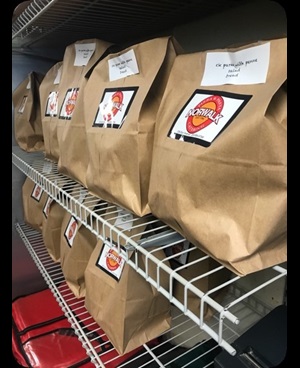 The food, prepared and delivered by Norwalk Pizza & Pasta, included an entrée salad, bread, dessert and beverages. A few vegan options were also provided. 

"The magnitude of generosity in our communities has been heartwarming during this public health emergency. We are so grateful to ConnectiCare, Norwalk Pizza & Pasta, and the Greater Norwalk Chamber of Commerce for supporting our healthcare heroes during this incredibly challenging time," said Grace Linhard, Chief Development Officer, Nuvance Health.
"We're grateful to ConnectiCare for reaching out to Norwalk Pizza & Pasta to provide lunch for the wonderful and dedicated staff at Norwalk Hospital. Their generosity and support of our business is greatly appreciated," said Luis Solis, a ConnectiCare and Norwalk Chamber member and owner of Norwalk Pizza & Pasta and Don Carmelo's Mexican Restaurant.

"We commend and applaud this thoughtful and generous initiative from ConnectiCare, made all the sweeter by the fact that it benefits our good friends at Norwalk Hospital, as well as one of our dedicated restaurant members. We know it will help and we hope it inspires others to lend their support too," said Brian Griffin, President of the Greater Norwalk Chamber of Commerce. 


About Connecticare
ConnectiCare is a leading health plan in the state of Connecticut. A local company for more than 35 years, ConnectiCare has a full range of products and services for businesses, municipalities, individuals and those who are Medicare-eligible. By striving to make it easy for members to get the care they need, ConnectiCare leads the individual market in the state, and is ranked among the top commercial health plans in the nation, according to the National Committee for Quality Assurance. ConnectiCare is a subsidiary of EmblemHealth. For more information, visit connecticare.com. To learn about ConnectiCare's health insurance plans, visit chooseconnecticare.com.