FARMINGTON, Conn., June 27, 2019 – During the Travelers Championship at TPC River Highlands Golf Course last week, ConnectiCare presented Operation Shower , a group baby shower for 40 military moms-to-be whose spouses are deployed. The moms-to-be are from Naval Subarine Base New London in Groton, or in some cases, are active duty themselves.
ConnectiCare has been the presenting sponsor of the Operation Shower event for 6 of the initiative's 8 year partnership with the tournament and works closely with Birdies for the Brave to put on this shower to honor military families. Kristie Lombardo, ConnectiCare's Vice President of Human Resources, was the featured speaker at the event.
"We're happy to join with Operation Shower and Birdies for the Brave to show our appreciation to these courageous military moms-to-be," said Lombardo. "Their service and sacrifice for our country deserve to be recognized and we are delighted to do that through this special shower."
This year, the health plan is also sponsoring and staffing the Operation Recognize booth Operation Recognize provides Travelers Championship attendees with an opportunity to take a photo or create a video message thanking United States troops for their service. The participants can create their own message or use one of the pre-written ones provided. The volunteers will be stationed at the booth from Wednesday, June 19 to Sunday, June 23.
"Often, people don't realize how meaningful a simple video or thank you note can be to deployed troops," said Jennifer Donohue, a volunteer staffing the Operation Recognize booth. "We're thrilled that ConnectiCare and the PGA Tour have allowed us to give back and show our appreciation for our troops."
For more information or if you or someone you know is interested in attending, please visit https://travelerschampionship.com/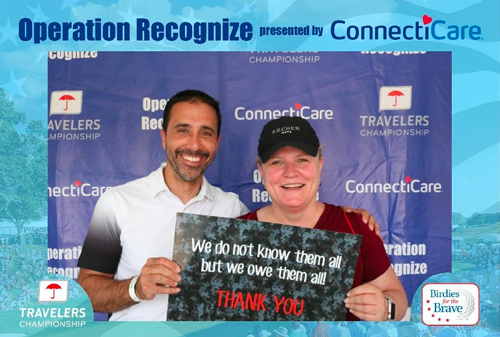 John Phenning and Barbara Vernon participate in Operation Recognize.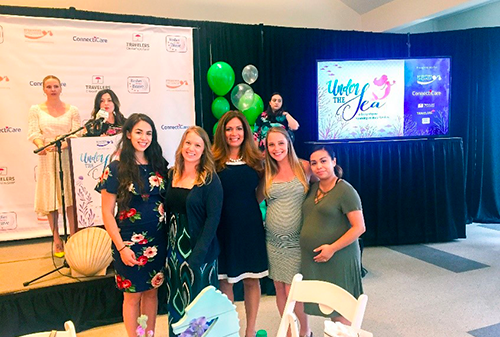 Military moms-to-be celebrate motherhood at Operation Shower.

About ConnectiCare 
ConnectiCare is a leading health plan in the state of Connecticut.  A local company for more than 35 years, ConnectiCare has a full range of products and services for businesses, municipalities, individuals and those who are Medicare-eligible. By striving to make it easy for members to get the care they need, ConnectiCare leads the individual market in the state, and is ranked among the top commercial health plans in the nation, according to the National Committee for Quality Assurance. ConnectiCare is part of the EmblemHealth family of companies. For more information, visit connecticare.com. To learn about ConnectiCare's health insurance plans, visit chooseconnecticare.com.